Blues, Rock, Classical, Bluegrass/Country, Jazz guitar lessons in Baltimore, MD!
Welcome to Huber Guitar Studio! Providing guitar lessons in Baltimore, MD to adults and kids from beginner to advanced levels. Located in the Old Goucher neighborhood at 2125 Maryland Ave (right above the No Land Beyond bar and board game shop)
Book an in-person or online guitar lesson today!
Visit our online scheduler to see what times are available and sign up!

or
 CALL or TEXT 410-960-4436​​
Our mission is to help folks in the Baltimore area meet their guitar and musical goals! At your first lesson, we will discuss your guitar playing goals, the style of music that you'd like to play, and your prior musical background. We will then assess your guitar skills and devise a unique plan and practice routine to help you get the most out of your practice time.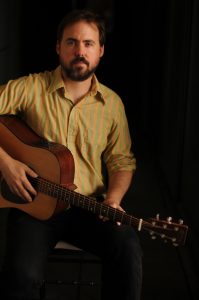 Guitar Lesson Rates are:
Half-Hour: $30
Hour: $50
No registration or hidden fees, and no semester payments required.  PayPal, Credit, and Debit Cards accepted!
Signing up is really easy. Just go here to see what times are available, pick a time that works for you, and we'll see you then!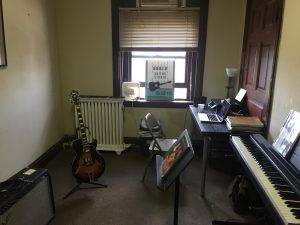 Have you recently bought a guitar and maxed out on what you can learn by watching videos online? Or, have you played guitar a long time ago and want to start playing again, but don't know what to focus on? Huber Guitar Studio can give you the direction you need to improve and expand your skill-set! Whether you are a complete beginner or an advanced guitar player, you'll find Dave Huber to be a very patient and engaging guitar teacher.
Huber Guitar Studio offers private, one on one, or small group guitar lessons. Want to learn guitar with a few friends in a comfortable, friendly, environment? Check out our group rates!
Have a friend or family member who wants to learn guitar? Guitar Lesson gift certificates are available!
For more info please call or text 410-960-4436. To schedule a guitar lesson, hit the "schedule now" button! Thanks! 
You can also visit our blog for the latest news, and guitar tips!